Ready for a fantastic summer with exciting programs
The end of the school year is an appropriate time for students to experience and learn new things. In 2023 summer, WASS cooperated with units of the Group to organize special summer camps with diverse purposes and suitable for each age group of students from Kindergarten to Year 12, in order to bring them a "quality" summer, to play and study at the same time at quality programs.
SUMMER CAMP 2023 OF WASS KINDERGARTEN
The summer camp "Fantastic Summer: A step into nature" for students from 2 to 6 years old of WASS Kindergarten will open the door to the wonderful natural world to explore and experience in 7 weeks. The program will take place from June 12th, 2023 to July 28th, 2023 with lively learning topics such as the plant world, the ocean, the habitats of animals, …
Fantastic Summer Camp is designed with four main subjects: Math, Science, English, Reading Comprehension and is taught entirely in English. In addition, students will also be able to participate in extracurricular activities and picnics to supplement essential skills, supporting the learning process and comprehensive development.
Attractive promotions are currently being applied for Parents who register early:
Pay the fee before March 31st, 2023: Discount 2.000.000 VND
Pay the fee from April 1st, 2023 to April 30th, 2023: Discount 1.000.000 VND
Pay the fee from May 1st, 2023 to May 30th, 2023: Discount 500.000 VND
Parents can review the detailed information of program via https://summercamp.wass.edu.vn/
TDA'S TALENT SUMMER CAMP 20223
With the interesting theme "Kick off Your Self-Discovery Journey – A journey to awaken talents", this summer, TDA Talent Development Academy simultaneously launched summer camps for the age group from 5 – 6 years old and 6 – 12 years old with a series of new, interesting and different activities, specifically:
Welcome Grade 1 Summer Camp: For 5 – 6 years old students
This is a program designed to help students prepare knowledge, skills and psychology before starting primary school. The learning content focuses on three main subjects: Math, Vietnamese, and English; combined with other foundation subjects such as music, technology, art, extracurricular activities,…
Talent Summer Camp: For 6 – 12 years old students
Science Summer Camp: The great opportunity for students to arouse their potential in diverse fields of mathematics, space, and science through interesting subjects such as Natural Science, Space Science,…
Technology Summer Camp: Students will be immersed in the world of modern technology and discover interesting knowledge through subjects such as Robotics, STEAM, Computer Science,…
Arts Summer Camp: It must be a great choice for WASSers/Eagles to be creative, unleash their passion for art with diverse subjects such as Visual Arts, Ceramics, Creative Music, Dance,..
Summer Camp 2023 will take place within 6 weeks and is expected to begin on June 12th, 2023. Current promotions are:
Register and pay fee before March 31st, 2023: Discount 3.000.000 VND
Students participate with their sibling: Discount 5% – 10% of tuition fees
Parents can review the detailed information of program via https://summercamp.tdacademy.edu.vn/
STUDY ABROAD WITH THE AMERICAN CAMP ISA 2023
Summer American Camp 2023: We go and We grow, is a program organized by the ISA in conjunction with a prestigious educational organization in the US.
American Camp 2023 is exclusive for students from 12 to 17 years old. Where students will learn, improve themselves and explore America with the most practical experiences right in the US.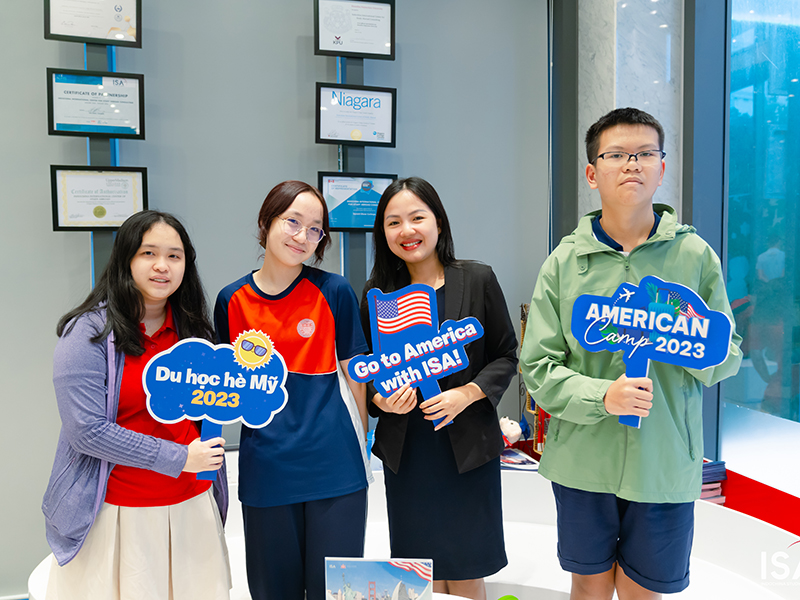 The program is scheduled to take place from June 11th, 2023 to July 1st, 2023. Students will be able to participate in activities in Western Pennsylvania, Eastern Ohio and Washington D.C.
Register now for receiving following attractive incentives:
Students participate with siblings: Discount 3,000,000 VND
Introducing the program to receive gifts worth up to 6,000,000 VND when introducing the program (Gift worth 3,000,000 VND for referrer and gift worth 3,000,000 VND for referred)
Parents can review the detailed information of program via https://uscamp.duhocisa.edu.vn/
Those summer programs are in the period of an exciting enrollment period with extremely attractive incentives to create the best conditions for students to participate in the summer camp they love.
WASS is ready to welcome students to very special programs this summer. Parents do not hesitate to contact the Admissions Counseling Department at each campus for advice and choose the most suitable program for students before the start of school!